Martial Arts Software

, Easy-to-Use, Fully-Featured

Black Belt Membership Software is a great product for martial arts business owners. This system will help your school to grow by managing your members. At less than the cost of other systems, this software is a must have for all martial arts schools.
Grow Tools
Grow Tools for Your Martial Arts Business. Make decisions with summaries and graphs of income, attendance tracking, leads and more.
Martial Arts Belt Promotions
Black Belt allows you to save rankings and belt exam results of each member. You can pre-define your belts, colors, requirements, and exam parameters into the System
Digital Waivers & eSignature
Our easy-to-use software makes digital waivers a snap. Integrating with Black Belt, our online registration & membership platform. Saves time and eliminates the hassle of printing. Storing or filing paper waivers both online and at your facility.
Mass Communication
Staying in touch with your members will be the best choice. You will make in the communication sector of your business. Our communication feature allows you to do it easily and feasibly.
Recurring Payment Simplify
If you run a martial arts or related business. Dont like the idea of giving credit, why not bill for your services and collect payments? This app will save you tons of time on collection and help build an honest, loyal following.
Automated Payment

Set up auto recurring payments and terms that are customized for your business.

Next Day Funding

Fast deposits, Transparent pricing & no surprise fees. Know exactly what you pay and get paid fast.

Automated Card Updater

Ensure uninterrupted payments, particularly those with recurring payments. By updating card-on-file account information

Cashier

Take multi-payments with cashier. Processor payments such as Cash, Checks, Credit Card & ACH Transactions in one place.

Online payments

Members simply pay their bills online with Black Belt payment portal. Black Belt send out an email with a link to access their open payments.
Access Our Demo Video
Schedule A Demo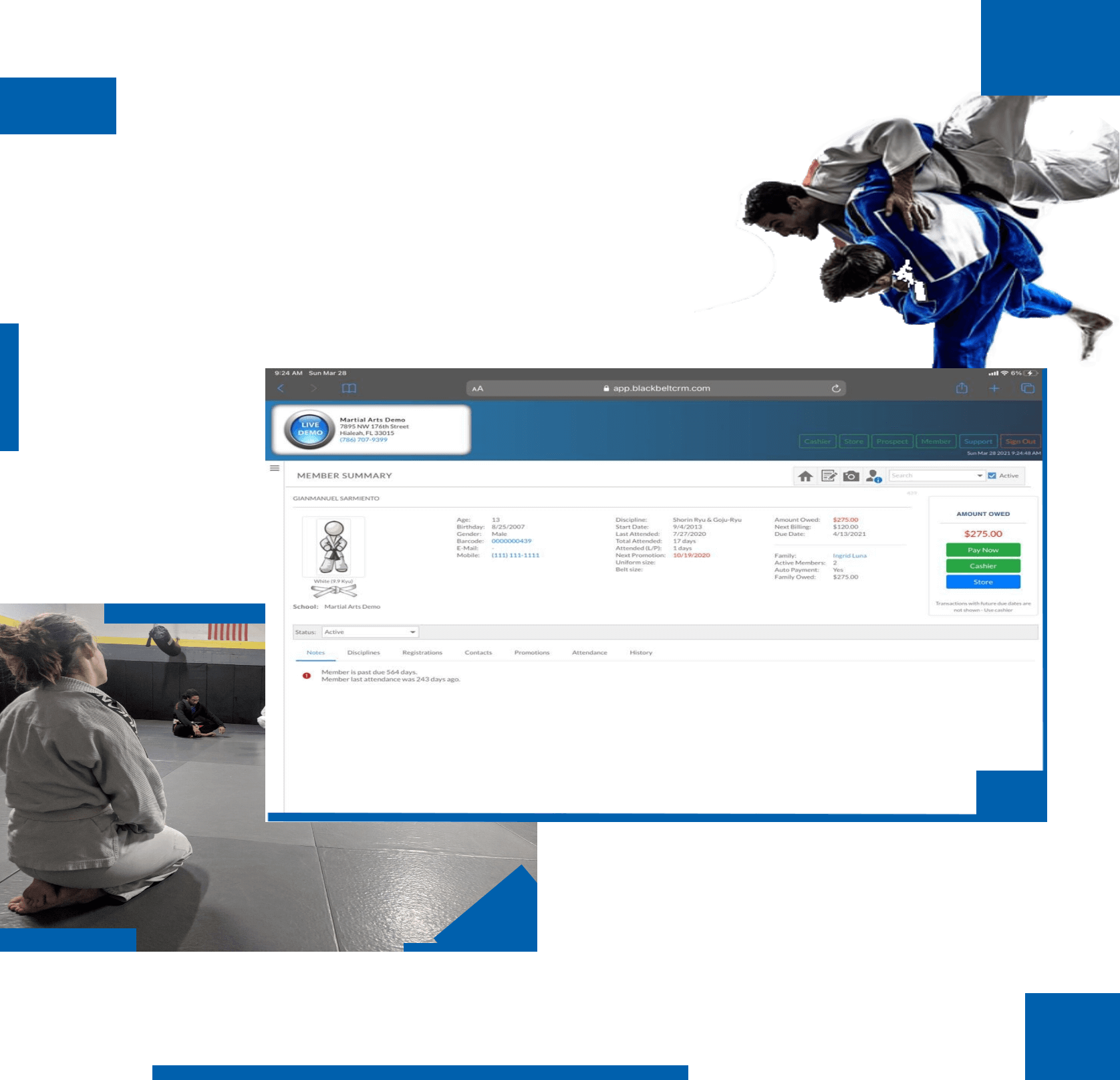 Members Management Tools
Our Members Management solution is a martial arts business tools. That makes it very easy for you to keep track of your members. It has software and many security measures to keep your information secure.
You can check the following information of any member stored in the System:
Name, address, family names, mobile, home, work, phones, emails
Member & Family history
Attendance History
Multiple-Discipline
Multiple-Belt Ranking
Waivers Management
Multiple-Contacts
Payment History
Black Belt software to manage your members. You can automate data entry by its users and create reports on the fly. You'll also be able to cancel memberships of those. That have an issue with payments, or anyone that has not been seen in a long time.
Access Our Demo Video
Schedule A Demo
Level Up your Martial Arts School with Opportunities!
Leads generated software will help you keep track of which prospects. Are open to hearing about your martial arts school. Where they currently live, ages, and personal interests.
Leads generated webform for your Martial Arts Business website

Collect the contact information of interested customers.

Lead & Trial Management

Collect the contact information of interested customers. Nurture your leads from interest to fully fledged members.
Black Belt Membership Software has got your back while you manage lead opportunities. Search by Lead type and interest: You can do easy searches based on interest.
Access Our Demo Video
Schedule A Demo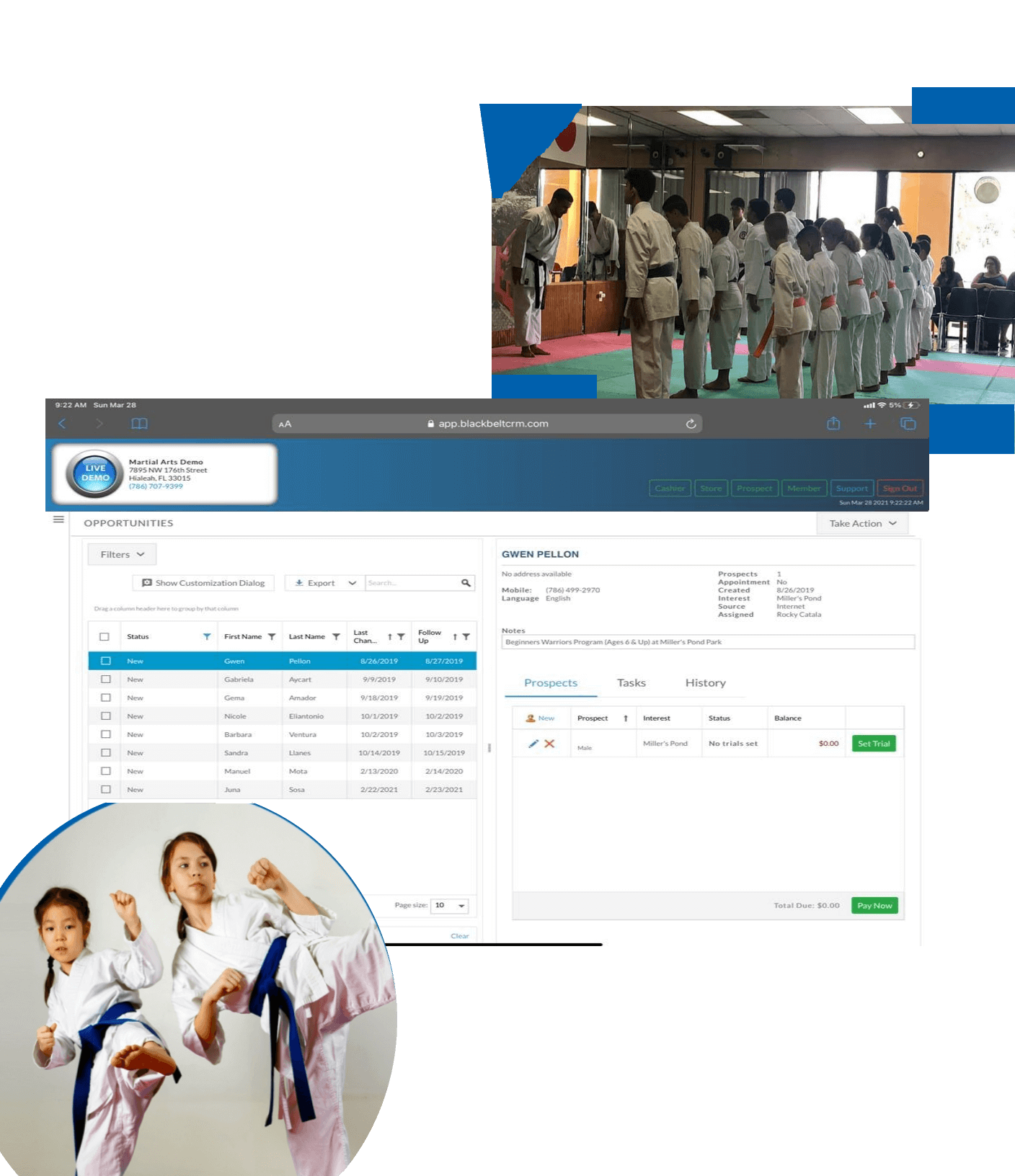 Video Testimonials
MASTER DANIEL OSORIO
Owner of United Martial Arts School Doral & Miami, FL
Recommend to any martial arts school—one of the best martial arts software in the market. I have been using Black Belt Membership software for my three taekwondo academy for the past 7 years. The multi-discipline & ranking system feature has to help me collect all my exam fees with ease. Their customer service is very responsive, always able to have someone on the phone.
Great software for martial arts to tracking membership, students' progress and billing. The Martial arts software is easy to use, membership tracking is excellent. When there is an issue the customer support is very responsive.
Frank P
Palm Coast, FL
This is one of the best Martial Arts software in the market. It has a low rate and it's not a complex system to use. The new design works on my iPhone and iPad beautifully.
Orlando C
Miami, FL
Great Martial arts software, easy to use, great customer service. Will definitely recommend...
Rima R
Buford, GA
Excellent software for a martial arts program! Makes my life easy by keeping up with payments and attendance. Keeps my martial arts students organized.
Nancy J
Omabma, NE
Black Belt Membership is one of the Best Martial Arts Software. Fantastic for keeping attendance and scheduling events, such as belt testing. Belt testing has never been easier for me. The automated billing & messaging feature is also an amazing. As Martial Arts school owner one the Best Martial Arts Software.
Amy L
New York, NY
Martial Arts Software Features click on any for more information