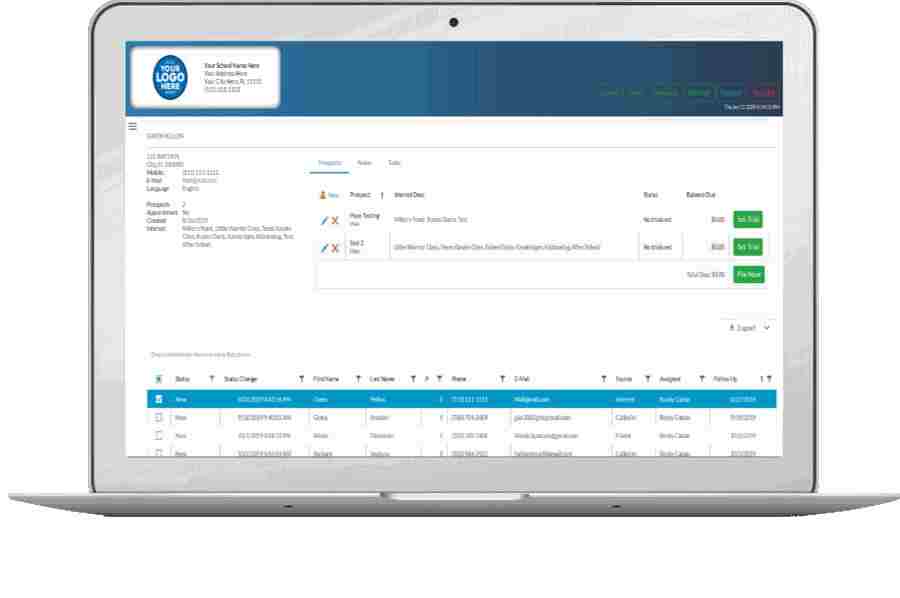 Black Belt Membership Software has got your back while you manage lead opportunities. No matter if they are coming from your website, or walking through your doors, can you find where your prospects are coming from? Black Belt opportunities tool is designed to assist you gain, develop, and oversee your prospects. What take place after someone leaves your school after that first contact? Prospects can be entered into your Black Belt Opportunities CRM tools. Once prospects are entered into you are in the driver seat. Keep track of all new prospects and trials so that follow up is easy and quick. Prospects will never slip through the cracks again See which prospects are new. See which Opportunitie need followed up today, set reminders and never forget to follow up again
It allows you to:
Create Lead Opportunities: you can do this by keeping track of the past actions of the members by entering history notes and follow updates into the System.
Set your Prospect on Trial: you can now keep track all your Trial with Black Belt opportunities. Set your prospect on 4 or 6 weeks Trial so that way you can follow up is made easy and quick.
Search by Lead type and interest: You can do easy searches based on interest and opportunities type using Black Belt Membership Software. You can distinguish your leads by their interest, i.e., Kids Karate, Boot Camp, After School, Kickboxing, and any other kind of program you have included in your business.
Create your Prospect From for your website
Create your Prospect From for your website: these forms make the first impression of your business. These forms are the ways the user interacts with your website. Hence the first impression is crucial to be beyond perfect. In other situations, you will have to do a lot of hectic coding in languages like HTML, CSS, and PHP to make your form look good and work well. But thanks to Black Belt Membership Software, we have built-in Prospect Forms. You can at once take your user back to your website when they submit their entry. It is okay to post form data using URL. But through Black Belt, you can create your very own custom confirmation page or even send your users to your online trial special.
Click on any Feature for more information